Eye Care Services for All Corporate Employees
We will be glad to serve corporate employees for providing comprehensive eye care services at LV Prasad Eye Institute, Road no: 2, Banjara Hills, Hyderabad, Telangana.
Below mentioned are the four categories of services, provided to all the patients depending on the economic status of the patient.
Depending on the cadre/grade/designation of your employee, you can specify the category of the service the employee should be catered.
Child Sight Institute
An extension of LVPEI's existing Children's eye Care Centres and eye health programs across Andhra Pradesh, this Institute will help realize LVPEI's 2020 vision - "No child goes needlessly blind in Andhra Pradesh". It also will endeavour to influence children's eye health in other states and countries.
Centre of Excellence in Eye Banking
The Centre will facilitate corneal donations and this will help augment the capacity of eye banks across India and other developing countries. The Centre will be developed with active collaboration from several world-renowned eye centres and research organizations in North America, Europe, Asia and Australia and Brazil.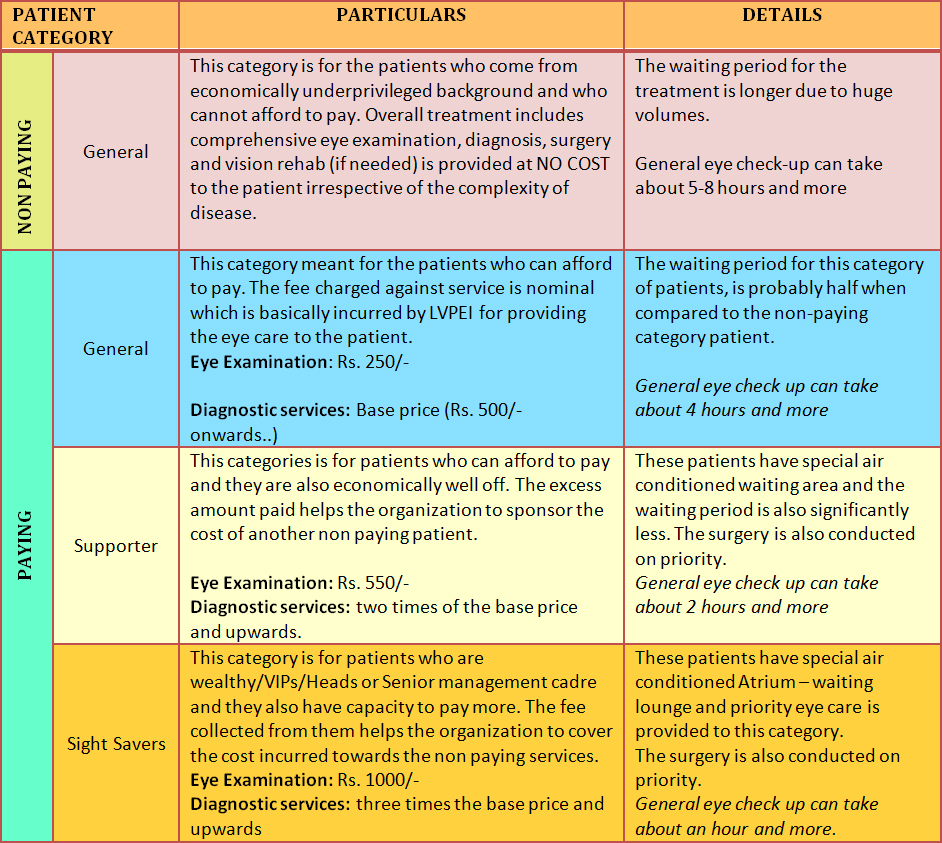 For eye surgeries: For all paying patients, we offer four packages starting with Standard, Elite, Deluxe, and Exclusive
As a policy LVPEI performs comprehensive eye examination for all the patients which takes about and over two hours.
This is done by trained optometrist under the ophthalmic slit lamp and if needed eye is dilated with eye drops to rule out existence of any eye disease. Then a consultant Ophthalmologist examines the eye and if needed further examination/diagnosis/medicine/surgeries are advised depending upon the complexity of the eye disease.