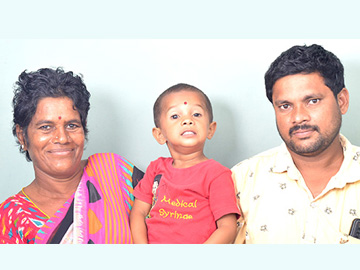 After the nightmarish experience of witnessing their three-year old suffer a severe eye injury (in the right eye) due to an accidental fall from the bed that took him to the brink of permanent vision loss, Hethwik's parents are all smiles today. And why not - the team at LVPEI's Kode Venkatadri Chowdary campus successfully restored his vision, despite such a severe eye injury.
When Hethwik was brought to the Vijayawada campus, he was immediately operated for a scleral tear repair surgery. Thereafter, he was diagnosed with irregular astigmatism (the curvature of the cornea/lens of his eye was imperfect). He had compromised vision, and it would have worsened if he was not treated in time. To avoid any further surgical intervention, speciality contact lenses – PROSE were prescribed to him. These lenses restore visual function and support healing and are recommended for patients with eye injuries. Thanks to the collective team efforts, there is a significant improvement in Hethwik's vision.
This is also the first case in the LVPEI network where the speciality contact lens has been dispensed to a patient as young as Hethwik. It is also the first case in the state of Andhra Pradesh, and a first in the country too.
Share this Post: