Academy encompasses
training

under different segments
Ophthalmology
Training in ophthalmology is one of the flagship programs. Academy offers training in various Sub - Specialties of ophthalmology:
Cornea & Anterior segments
Cataract & Refractive Surgeries
Retina & Vitreous
Glaucoma
Oculoplasty and Ocular Oncology
Strabismus, Neuro and Pediatric ophthalmology
Uveitis

Long Term Fellowships: This is a hands-on 36 months' training program
Fellowship incorporates 3 H's and aims to train budding ophthalmologists to become a self - sufficient and excellent super specialty practitioner.
*3 H's HANDS: Surgical competency
HEAD: Critical thinking
HEART: Serving the underprivileged
The fellowship is an excellent blend of clinical rotation, surgical training and research.
At the end of the training program, the trainee will be able to:
Provide excellent comprehensive management of ocular diseases.
Manage all the predominant ailments in the subspecialty independently
Become an expert in various surgical techniques
Be able to publish research papers
Short Term Observership programs
Observership opportunities are offered in select sub- specialities of ophthalmology. These programs are offered preferably to practicing ophthalmologists for a duration of 1-3 months.
In order to cater to the needs of post graduate students in ophthalmology, we offer a 1 month ZEISS observership program in basic diagnostic techniques. This provides the candidates an optimal exposure to a tertiary level of practice in comprehensive ophthalmology.
Ophthalmology residency Program
The program is accredited by National Board of Examinations (NBE). The students are selected through central counselling process.
Short term Hands on Training programs:
Hands on One month training programs are offered in Cataract techniques and management of Retinopathy of Prematurity (ROP)
ICO & IOFF fellowship (Observership)s:
An observership of 3 months is offered in select sub-speciality of ophthalmology for applicants who qualify for the same.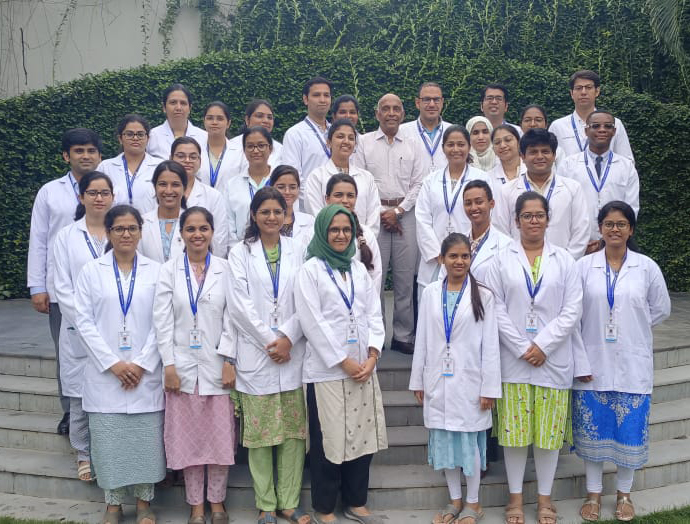 International applicants
Application process: Both national and international applicants can write to us on education@lvpei.org for more details.
*

Candidates with qualification from alternative medicine streams are not eligible to apply for the training offers
Optometry
Optometry, PGDOVS & Vision Technician Contact details rajesh@lvpei.org
Contact Number:
040 6810 5634
Other Eye Care Professionals Training Programs
Low Vision & Rehabilitation
The persons who are involved in the provision of low vision care are ophthalmologists, optometrists or rehabilitation professionals. Hence it is desirable that appropriate persons are identified at each level of service delivery, and training programs structured accordingly.
LVPEI has been conducting training programs in low vision care for eye care professionals for several years now. These programs were designed in collaboration with Lighthouse International, New York, and supported by Sir Ratan Tata Trust, Mumbai, India. The long-term fellowship program is supported by EyeSight International, Canada.
The Centre's future plans include conducting a master's program in low vision, a master's program in rehabilitation science and the establishment of a centre for multiple disabilities.
LVPEI is now reaching out to a larger target audience in India by conducting short courses in low vision care for ophthalmological societies, eye care centres and optometry schools. The Institute is also collaborating with the government and non-government organizations in offering training programs in low vision care.
Low Vision & Rehabilitation Courses
LAP: Low Vision Awareness Program
Short-term Observership Program in Low Vision Care
Contact us for further details on: vijaykumar@lvpei.org
Tel No: 040-68105802/05/07