Microbiology & Immunology - Laboratory
Clinical Pathology Services
Headed by Dr. Archana Bhargava, this laboratory provides hematology, biochemistry and clinical pathology services to the patients coming to L V Prasad Eye Institute. On an average, 150 patients are examined and tested in this laboratory. All patients scheduled for surgery undergo preoperative evaluation and testing in this laboratory apart from patients with symptoms related to systems other than the eye. State-of-the-art equipment is used in the laboratory for testing of various systemic parameters at the shortest possible turn around time. Quality of all tests done in the laboratory is maintained by following stringent daily quality control and quarterly external quality assessment schemes, as per the requirement of NABH. Only fully trained technicians perform the tests.
Jhaveri Microbiology Centre & Saroja A Rao Immunology Laboratory
The activities of Jhaveri Microbiology Centre and Saroja A Rao Immunology Laboratory include diagnosis of bacterial, fungal, viral and parasitic eye infections, study of antimicrobial susceptibility profile of organisms and detection of antigens and/or antibodies in blood/serum sample of patients. Approximately 80-100 patient samples are processed daily for various tests that include direct microscopy of stained samples, culture, ELISA, immunofluorescence tests, polymerase chain reaction test etc. Supervised by Dr. Savitri Sharma, these laboratories are involved in several research projects related to eye infections. In addition, the faculty members spend considerable time in teaching of ophthalmology and optometry trainees of L V Prasad Eye Institute.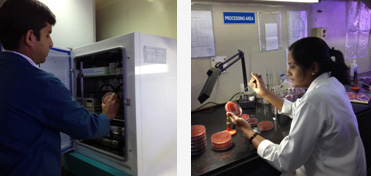 Ophthalmic Pathology Laboratory
This laboratory provides diagnostic service in the field of histopathology, cytopathology and bone marrow examination for the patients seen and treated at the L V Prasad Eye Institute. It provides specific tissue diagnosis about the patients to clinicians, which helps them in the management of the patients. The service is especially important in patients with any form of eye tumor. Headed by Dr. Dilip K Mishra and manned by highly skilled technicians, the ophthalmic pathology laboratory also forms the backbone of teaching pathology of eye diseases to the ophthalmology and optometry trainees at L V Prasad Eye Institute.