Prof Brien Holden Eye Research Centre
Hyderabad Eye Research Foundation
All research at L V Prasad Eye Institute is conducted through its constituent arm, the Hyderabad Eye Research Foundation (HERF), which is recognized by the Indian Government's Department of Scientific and Industrial Research (DSIR) as a Scientific and Industrial Research Organization (SIRO). HERF continues to compete for and receive grants from all over the world to conduct cutting edge research on the eye. The Prof Brien Holden Eye Research Centre (BHERC) investigates the causes and treatment strategies through its various components, namely the Champalimaud Translational Centre (C-TRACER), the Jhaveri Microbiology Centre, the Saroja A Rao Immunology Laboratory, the Kallam Anji Reddy Molecular Genetics Laboratory, the Ophthalmic Pathology Laboratory, the Sudhakar and Sreekanth Ravi Stem Cell Biology Laboratory, and the clinical research laboratories. Each of these components has been named after its donor, in recognition of their generous support.
An inter-disciplinary multi-institutional project - Biomimetic hydrogel for the treatment of blinding corneal diseases - from LVPEI (Dr Sayan Basu and Dr Vivek Singh), IIT (Dr Falguni Patil), and CCMB (Dr Kiran Kumar) received the Sree Rama Krishna Paramahamsa Research Grant. It will evaluate the safety and efficacy of a novel and proprietary biomimetic hydrogel and the unique-mesenchymal stem cells derived from the human eye for treating corneal wounds. It provides hope to patients with corneal blindness and those who otherwise carry a poor prognosis (a significant number of patients) for corneal transplantation.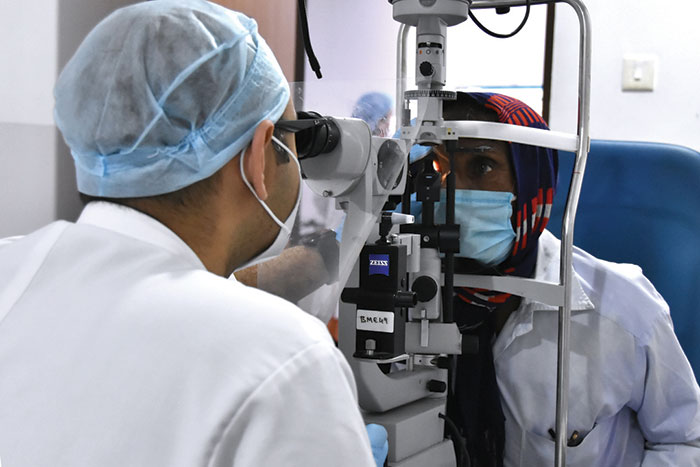 ---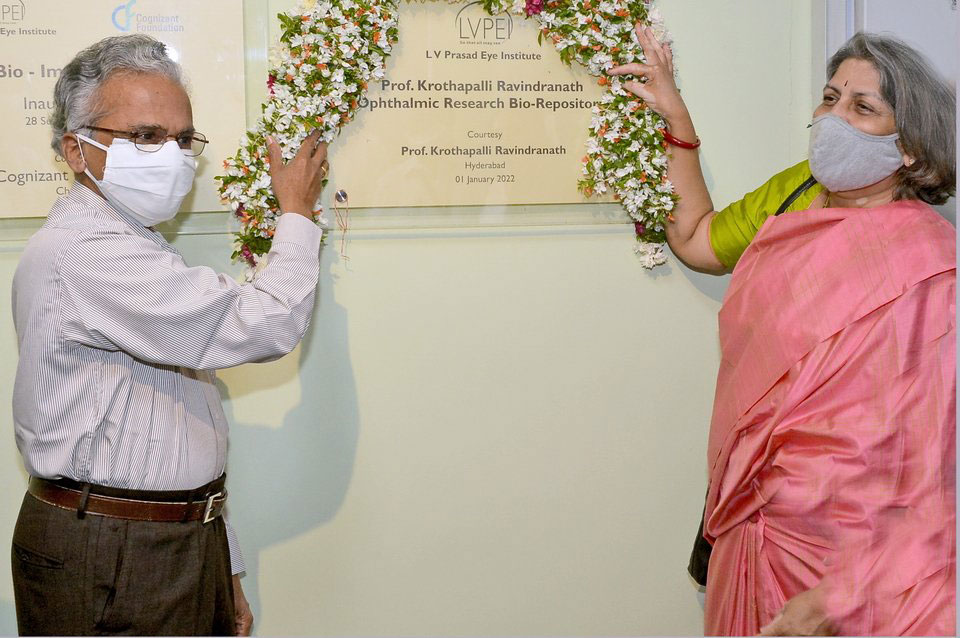 The Hyderabad campus is now equipped with a state-of-the-art Ophthalmic Research Biorepository for cryopreservation (preserving invaluable ophthalmic tissues); courtesy: Prof Krothapalli Ravindranath, Retired Dean, SV Veterinary University, Tirupati. The study of these patient samples will help in developing better understanding of the molecular mechanisms of eye diseases and their management.
LVPEI was recognized for its exemplary contributions to vision and ophthalmology by ARVO (Association for Research in Vision and Ophthalmology - the largest global body that facilitates, promotes and recognizes research in vision and ophthalmology): Dr PremNandhini Satgunam received the prestigious Carl Camras Translational Research Award for her innovation - pediatric perimeter; Dr Subhabrata Chakrabarti bestowed with the highest honour of Gold Fellow of ARVO (a first from India) for his services on various fronts of eye and vision research; Mr Goutham Pyatla and Ms Rebecca Sumalini (graduate students) received the prestigious DCERF (Developing Country Eye Research Fellowship) award; and additionally, six graduate students received ARVO Travel Grants.
The 14th Annual Champalimaud Symposium (virtual) had Dr Michael Chiang, Director of the National Eye Institute, Maryland, deliver the oration on the potential of artificial intelligence in ophthalmology. It also had keynote lectures by Prof Friedrich Paulsen on the functional anatomy of the tear drainage system and Dr Venkata Venuganti on the use of microneedles in ocular drug delivery.
A unique five-day virtual workshop, Neuron-glia Interactions in Ocular Development and Diseases - to foster Indo-US collaborations in basic and translational eye research between the two countries was held under the aegis of the IUSSTF (Indo-US Science and Technology Forum). The workshop was organized through collaboration between LVPEI, Wayne State University and the University of Massachusetts to understand and strategize the roles of neurons and glia in disease causation in the eye. Various researchers from leading institutions in India and USA deliberated to gain further insights into the molecular mechanisms in neuron-glia communications.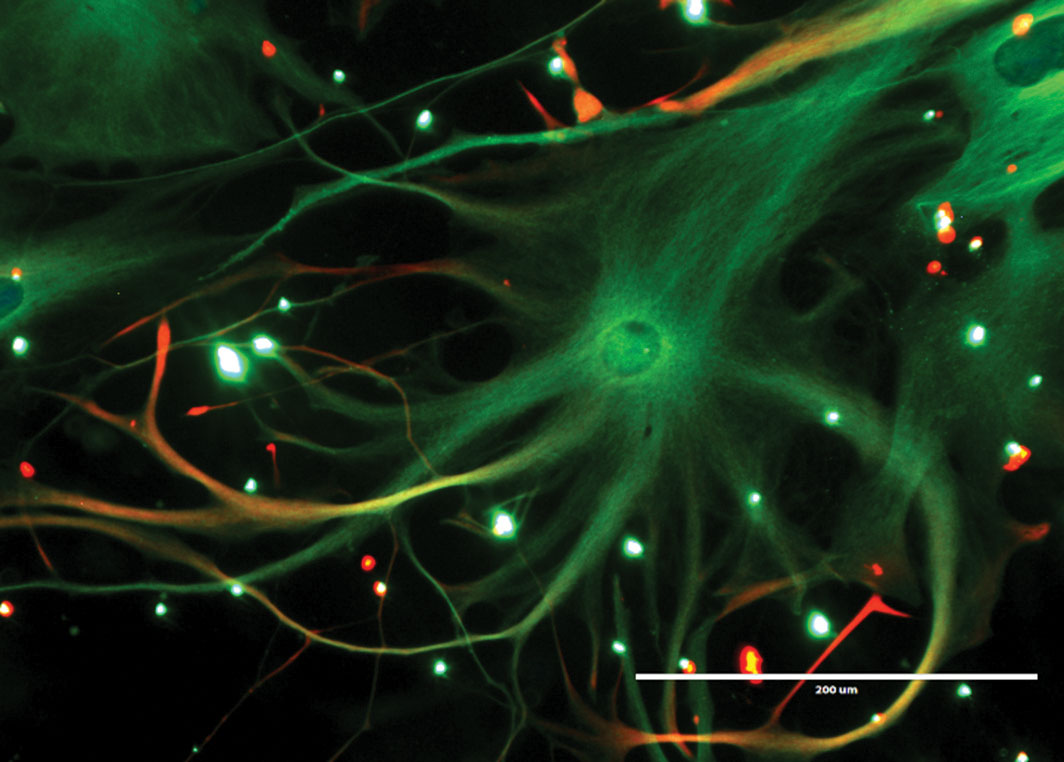 2021-2022


Publications with the highest impact factor
Incidence, demographics, types and risk factors of Dry Eye Disease in India: electronic medical records driven big data analytics report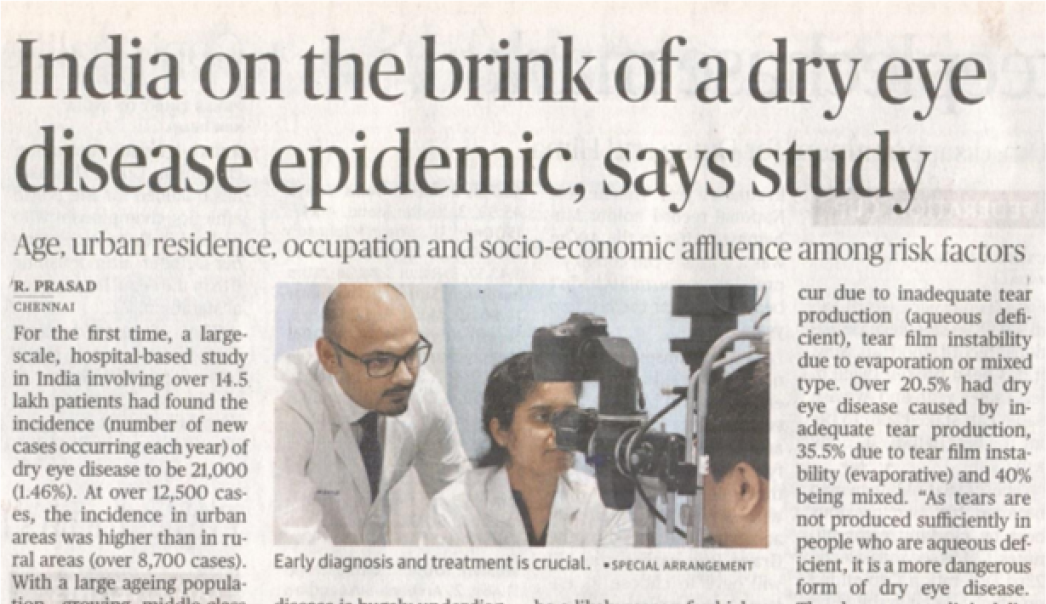 Authors: Pragnya Rao Donthineni, Priyanka Kammari, Swapna S Shanbhag, Vivek Singh, Anthony Vipin Das and Sayan Basu
Publication: The Ocular Surface Volume 17, Issue 2 (Pages 250-256); April 2019
This study on Dry Eye Disease was conducted on 1.45 million patients and was LVPEI's First Big Data Study. It predicted that 45% or nearly half of India's urban population is likely to be affected by 'Dry Eyes' by the year 2030. It also identified the specific groups at risk of developing this condition.
Global Retinoblastoma presentation and analysis by national income level
Authors: The members of the Global Retinoblastoma Study (included LVPEI clinicians and researchers)
Publication: JAMA Oncology; February 2020
The Global Retinoblastoma Study Group analysed more than half of all new retinoblastoma cases worldwide in 2017 and concluded that Retinoblastoma was most prevalent in children from low and middle income countries.
Retinal Detachment after Phakic Intraocular Lens implantation: A 10-year multicentre study
Authors: Pukhraj Rishi, Yamini Attiku, Manisha Agarwal, Raja Narayanan, Dinesh Talwar, Bhaskar Srinivasan, Abhinav Dhami and Ekta Rishi
Publication: Ophthalmology Volume 126; August 2019
Comparison of rebound tonometry and handheld applanation tonometry in Pediatric Glaucoma with clear and scarred corneas
Authors: Swathi Vallabh Badakere, Harsha l. Rao, Mohammad Hasnat Ali, Anil K Mandal, Nikhil S. Choudhari, G Chandrasekhar, Sirisha Senthil
Publication: Ophthalmology Volume 126, Number 9; September 2019
A systematic investigation on complement pathway activation in Diabetic Retinopathy
Authors: Shahna Shahulhameed, Sushma Vishwakarma, Jay Chhablani, Mudit Tyagi, Rajeev R. Pappuru, Saumya Jakati,Subhabrata Chakrabarti and Inderjeet Kaur
Publication: Front Immunol; February 2020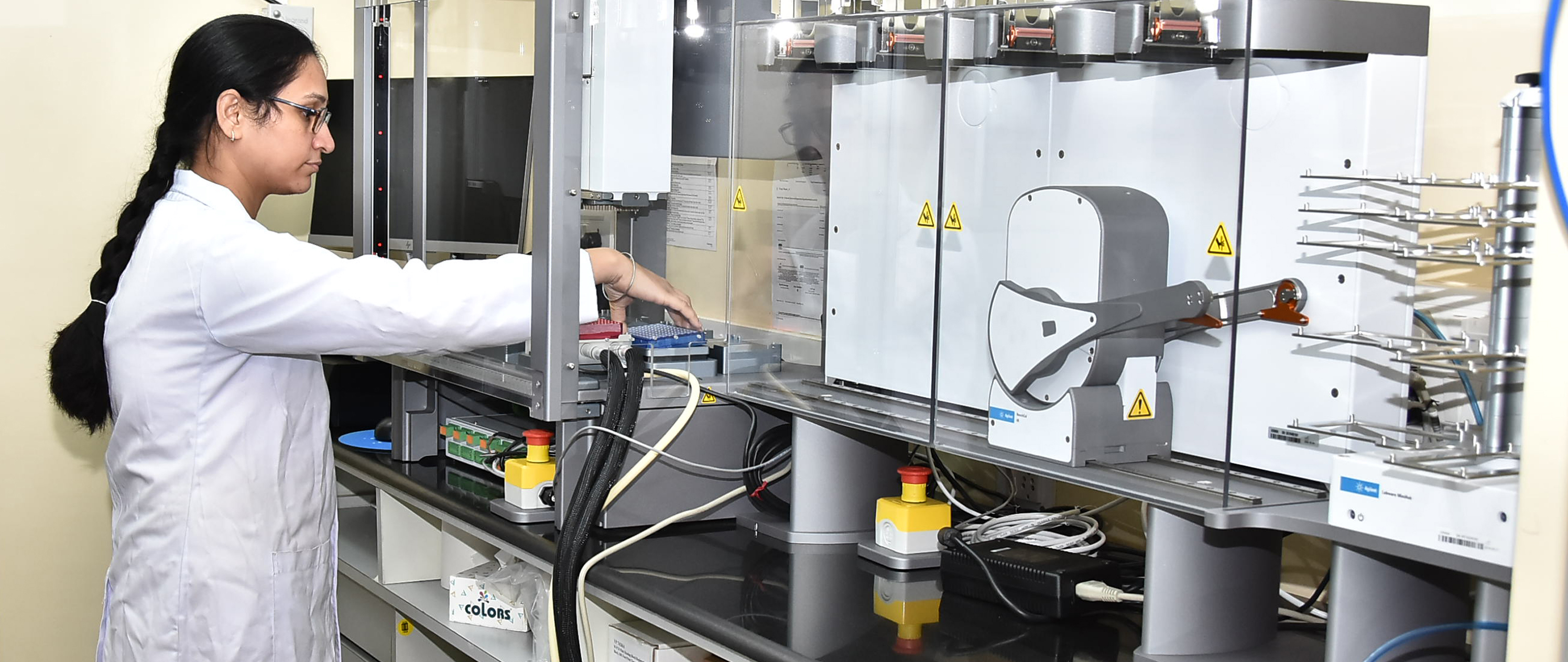 Center for Excellence in Health Outcomes Research and Economics
An interdisciplinary team of researchers from LVPEI, IIM Ahmedabad and the Indian Institute of Public Health - Hyderabad have been awarded the Wellcome Trust/DBT India Alliance Clinical/Public Health Research Center (CRC) grant to set up a first of its kind Center for Excellence in Health Outcomes Research and Economics.
From LVPEI, Dr Raja Narayanan is the Principal Investigator and Dr Anthony Vipin Das is the Co-Investigator for this project
This unique collaboration has the potential to scale up the quality of eye research that will contribute to eliminating avoidable blindness in India and the South Asia region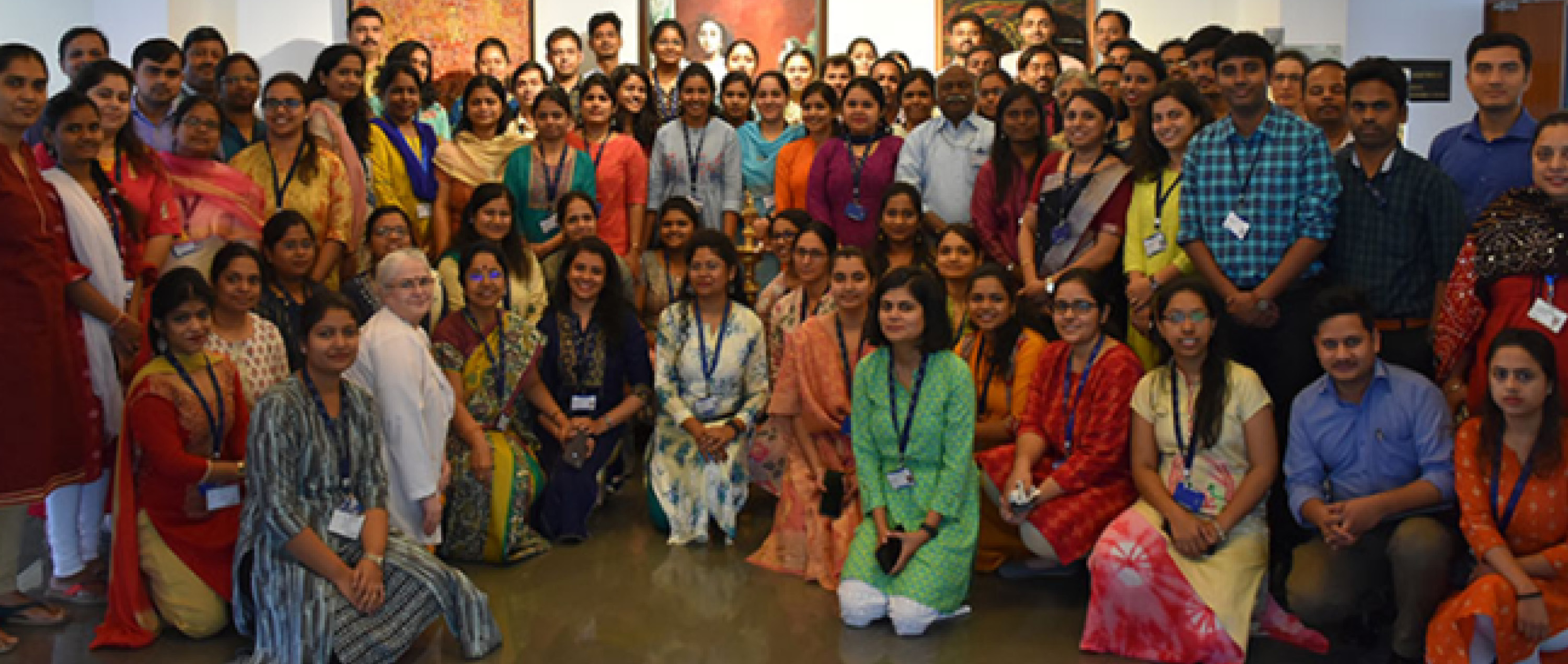 Research Day was organized to foster exchange of knowledge and strengthen collaborative initiatives between the different labs. Dr Murali Dharan Bashyam - Head, Laboratory of Molecular Oncology, Centre for DNA Fingerprinting and Diagnosis, Hyderabad) was the Chief Guest and Dr Vidya Latha Parsam - Global Business Development Manager, Cyient Ltd, was the Distinguished Alumni Guest.