Standard Chartered- LVPEI Academy for Eye Care Education
LVPEI is a World Health Organization Collaborating Centre
Trainees Trained (2021-22)
Long & Short Term Educational Programs (2021-22)
LVPEI is a World Health Organization Collaborating Centre in developing human resources for the prevention of blindness and providing training to eye care professionals from across the world. Training and education are recognized as key factors that influence the reach, range and quality of eye health service delivery. Therefore, the Institute strives to provide the highest quality of training and education through the committed faculty, complemented by the most advanced technological and methodological tools. Education at LVPEI has three main objectives:
To develop high-quality self-sustaining eye care services for all cadre in neglected areas of India and other parts of the developing world
To participate in planning eye health initiatives in the developing world
To undertake operations and research projects to understand the best way to deliver eye care services to communities
Standard Chartered- LVPEI Academy for Eye Care Education encompasses:
Mark Nathaniel Thadikonda and Vijayamma Nannepaga Centre for Eye Care Education, Kallam Anji Reddy Campus, Hyderabad
Pathak Centre for Eye Care Education, Bhubaneswar
Pathak Centre for Eye Care Education, GMR Varalakshmi Campus, Visakhapatnam
Kode Venkatadri Chowdary Campus, Vijayawada
Brien Holden Institute of Optometry and Vision Sciences, GPR Campus, Hyderabad
Ramachandra Pararajasegaram Community Eye Health Education Centre, Gullapalli Pratibha Rao Campus, Hyderabad
Given our combined expertise in ophthalmic care and engineering, we launched the blended Master of Technology (MTech) program in Ophthalmic Engineering in collaboration with the Indian Institute of Technology, Hyderabad. It aims to bridge the gap between clinicians and medical practitioners and intends to create a pool of qualified ophthalmic engineers who could take up the pressing challenges in eye care and develop technology products.
In its second year, the HelpMeSee supported simulator-based Manual Small Incision Cataract Surgery (MSICS) program saw a 97% growth with 189 trainees successfully completing it. This innovative approach to providing no-risk tutoring on simulators is proving to be an effective solution for bridging the gap between demand for cataract-related blindness treatment and the shortage of skilled ophthalmologists.
Online Ophthalmology Courses designed following 'real-time' and 'self-paced' learning principles were taken by over 1200 participants. Additionally, the Digital Education YouTube channel, a rich source of informative and engaging eye care educational content, has gained over 10,000 subscribers.
Consuming Knowledge Consciously is designed to train first-generation clinical tutors on active learning strategies. Through 21 uniquely designed videos, group activities and role plays, it focuses on the philosophy of active learning and different active learning strategies.
The in-house developed e-flip book, Learn How You Can Be An Excellent Vision Technician, has clinical concepts presented in one-minute-learning-capsules and is greatly helping the vision technicians in their day-to-day practice.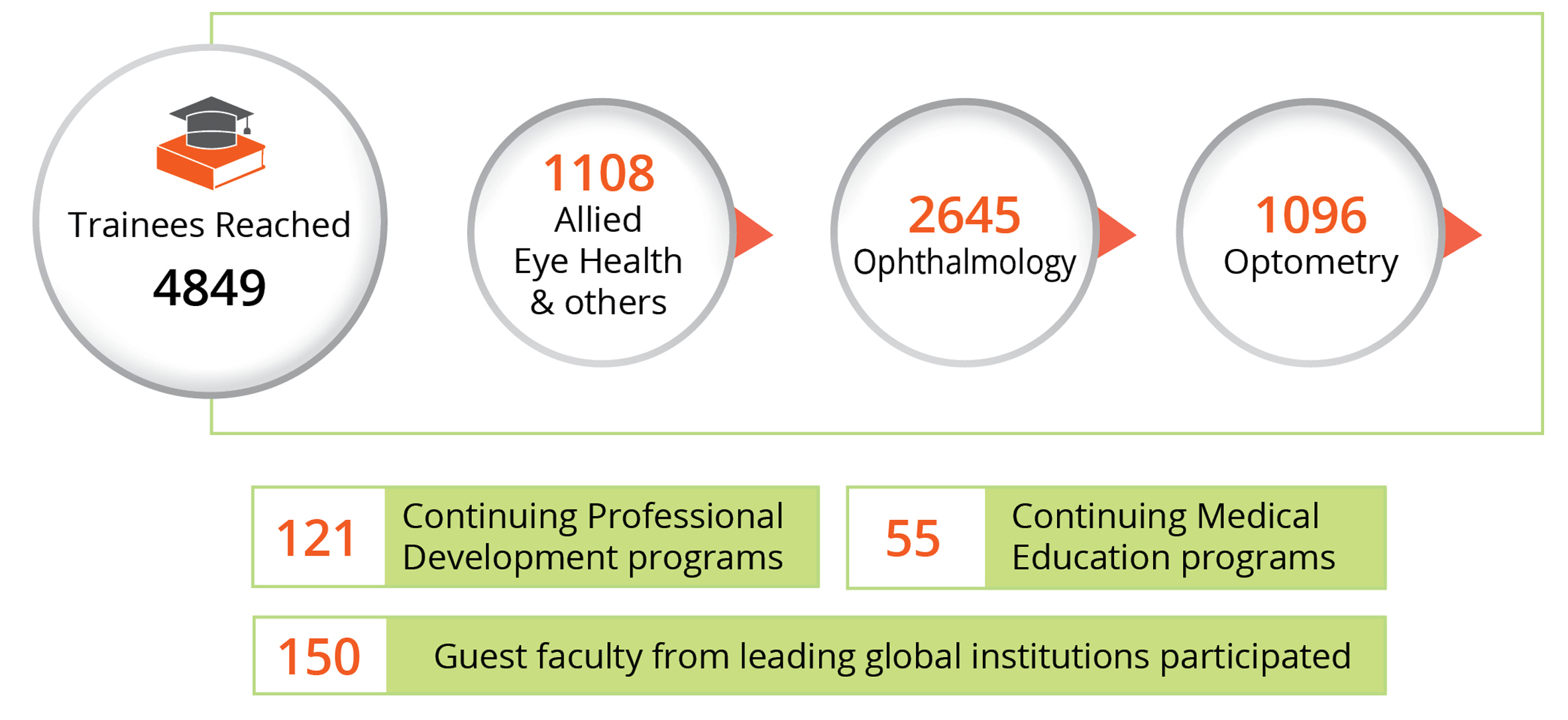 ---