The loss of vision has multidimensional implications on a person's quality of life and can have immediate and long-term consequences in children and adults – it can hamper their physical, psychological, educational and economic growth. People with visual impairment often remain socially isolated and confined to the four walls of their home. Several factors are responsible for this, some of which include:
Many including medical professionals have preconceived notion and myths about low vision and blindness, and are unaware that people with visual impairment can be successfully rehabilitated
Non-availability of / or access to low vision rehabilitation services
Insufficient provision of affordable low vision devices
Cultural beliefs/myths regarding use of low vision devices
When conventional treatments – medical or surgical – fail to prevent or restore vision loss, vision rehabilitation and sight enhancement services work at empowering people with low vision and blindness - to become important contributing members of the society. These services are a combination of learning daily living and work related skills, and the use of suitable low vision devices, along with customized counseling.
Vision Rehabilitation is an integral part of the L V Prasad Eye Institute's pyramidal model of care delivery; the services are delivered at all levels across the LVPEI's network. The comprehensive services range from assessment and prescription of low vision devices (such as magnifiers to help patients with low vision read again) to social, educational, and vocational rehabilitation through training or re-training patients with low vision and blindness to the highest possible level of their functional ability. These activities are not only limited to our centre; those in the community who cannot access these services are rehabilitated through community-based rehabilitation services.
In the last 35 years, we have successfully rehabilitated more than 191,325 people with low vision and blindness across all age groups and strata of the society.
---
Highlights
An Assistive Technology Exhibition showcasing various assistive products, including smart vision devices, audiobooks, and smartphone assistive applications, was organized on the 11th Global Accessibility Awareness Day. The event had 150 visitors who were offered an accessible tour of the infrastructure, using the assistive technology app 'Spacefelt'.
The Smart Vision Device is an innovative artificial intelligence-based wearable device that helps persons with vision impairment to read, navigate, and recognize objects and people. Commemorating World Braille Day, 26 devices were distributed to students with vision impairment, at an event organized in collaboration with and the support of Vasantha-Krupa Palakurthi Vision-Aid Resource Centre.
Vision screening programs for children with special needs were successfully organized at: The Institute of Health Science (IHS) in Bhubaneswar. 81 children and ten IHS staff members benefitted from the screening drive. Children who needed further eye examination and vision therapy were referred to the Special Needs Vision Clinic at LVPEI's Mithu Tulsi Chanrai campus.
UMANG – Resource Centre for Persons with Special Needs, Jaipur. Rehabilitation specialists at LVPEI, Hyderabad, were invited to conduct vision assessment for children with multiple disabilities.
Facilitated resource extension to Continued Rehabilitation Education (CRE) programs at two institutions, UMANG, Jaipur, and Dibrugarh University in Assam, which hosted a CRE program for mainstream schoolteachers of 60 districts. The program was organized by the National Institute for Empowerment of Persons with Visual Disabilities, Dehradun.
Dr Beula Christy was selected for the Perkins School for the Blind's International Early Leadership Program (ELP) in Boston, Massachusetts, USA.
2022-2023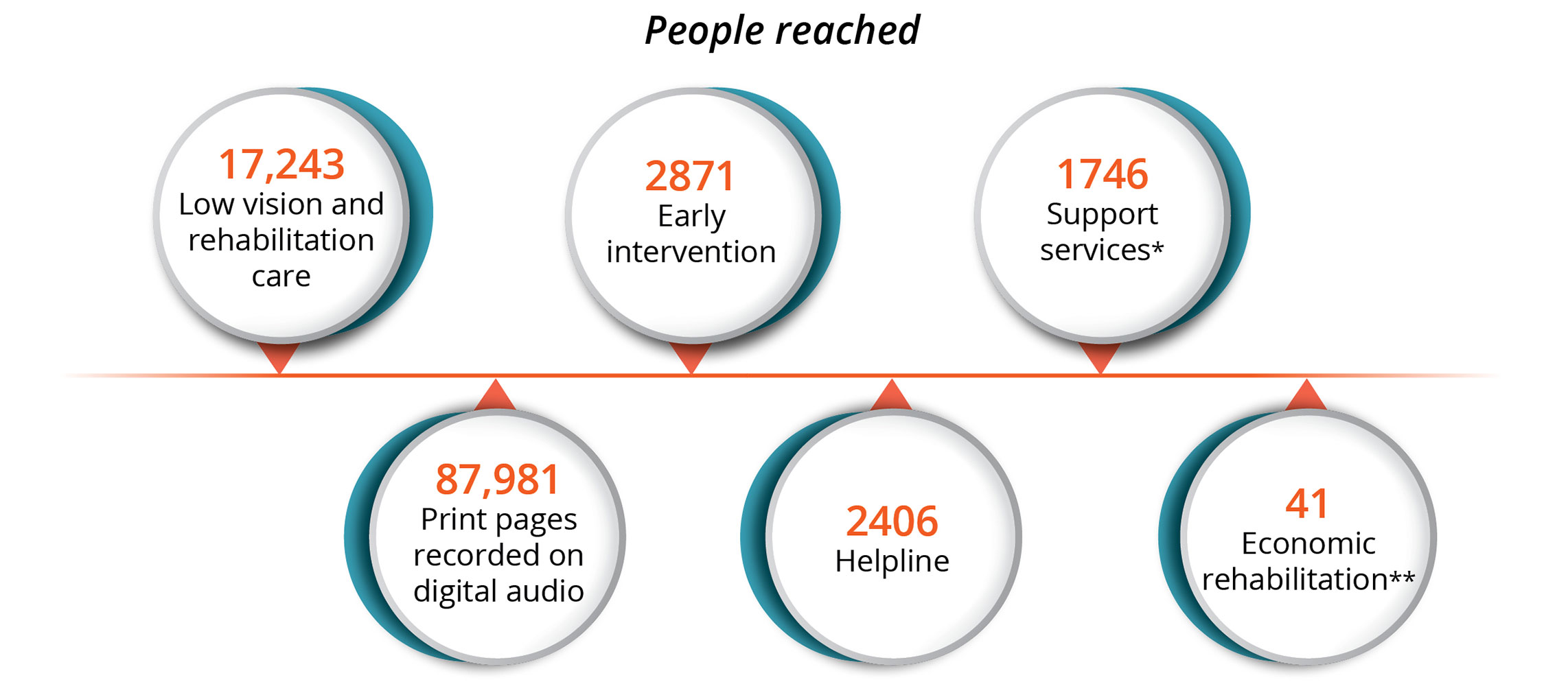 * Providing medical certificates and railway concession forms so that persons with vision impairment can apply for and avail the benefits provided by Government of India
** Job placement & self-employment