The LVPEI Centre for Elderly Eye Care
India is facing unprecedented demographic changes. The UN World population aging report notes that India's aging population, the 'elderly,' will grow from 8% in 2021 to 20% by 2050—over 300 million people.
The LVPEI centre for elderly eye care offers the best vision care to the elderly. Our team of specialists tackles the gamut of vision-limiting ocular diseases that ensue with age and follow a holistic approach to aging. In addition, we place eye care at the center and as the first line of screening for other age-related health morbidities like frailty, falls, depression and dementia.
LVPEI's elderly services in collaboration with Thomas Jefferson University, Philadelphia, are spread across its network and are currently active at Gland Pharma Centre for Elderly Eye Care at the Kallam Anji Reddy Campus, Hyderabad; Aurobindo Geriatric Eye Care Centre at the GMR Varalakshmi campus, Vishakhapatnam; and ICICI Centre for Elderly Eye Care at the Mithu Tulsi Chanrai campus, Bhubaneshwar—dedicated facilities to serve the elderly seeking eye care services there. In addition, LVPEI's Silver Sight initiative takes home-based eye screening facilities through its vision centre network across the states of Telangana and Andhra Pradesh. Find out more.
Service flow
The services of the Institute are integrated across the LVPEI network. The service flow is as follows: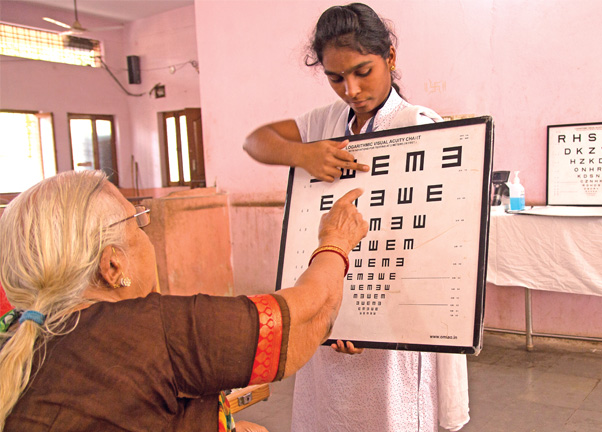 Older adults seeking appointments at LVPEI are evaluated for frailty before their arrival through a telephonic questionnaire. In addition, the expected risks confounding the quality of life in the elderly are assessed during routine clinical flow.
The score generated lets the EMR system flag these patients for easy identification at the hospital entrance. These patients are guided to a dedicated elderly care lounge for prioritized care.
A flagging system in the EMR identifies those needing various therapeutic and rehabilitative procedures.
Dedicated staff trained in elderly care assist these patients during their hospital stay, ready to meet any emergency.
The waiting lounge and the utility areas are elderly-friendly to improve the elderly subject's visit experience.
We use the opportunity to educate them on the various morbidity prevention options available to make aging safer and healthier
Silver Sight Initiative
Silver Sight—eye care for the elderly took shape in the depths of the COVID19 pandemic. As many millions were home-bound, those elderly with eye care needs could not access eye hospitals for regular eye exams.
So, in June 2020, LVPEI launched 'Silver Sight' to make primary screening for common blinding conditions, for dispensing spectacles, teleconsultations, and referrals for those in urgent
need—right at their homes.
'Silver Sight' is currently run through LVPEI's extensive vision centre network (primary eye care centres with essential vision screening) in Andhra Pradesh and Telangana.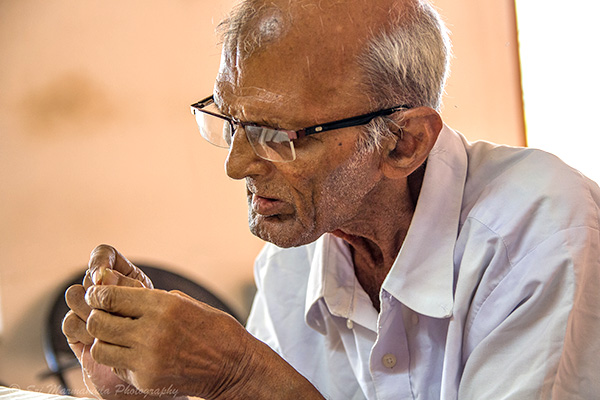 'Magical' is how 66-year-old Aakaarapu Padma describes her vision restoration journey. She could barely see, and her family could ill afford any treatment for her. Silver Sight - Eye Care for the Elderly is a program initiated by LVPEI to provide homebased eye care services, including primary eye screening and dispensing of spectacles. When this team visited her home, they identified her vision problem. She underwent cataractremoval surgery at the Mudhole secondary centre and later advanced retinal detachment surgery at the Centre of Excellence at Hyderabad. " If not for the Silver Sight program, my mother would have remained blind," said her son.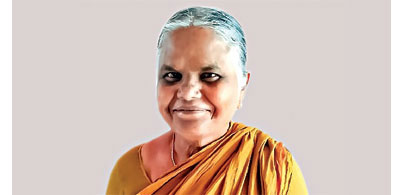 LVPEI made its foray into Geriatric eye care six years ago with an exclusive elderly eye care centre at the Vishakhapatnam campus, courtesy - Aurobindo Pharma Limited. Last year, two more centres opened at the Hyderabad campus, courtesy - Gland Pharma and the Bhubaneswar campus, courtesy – ICICI Bank. The centres offer personalized care - detailed eye examination, diagnostics, surgical intervention, vision rehabilitation, physiotherapy, screening for systemic health conditions, depression and dementia, and counselling on preventive measures to reduce the risk of falls.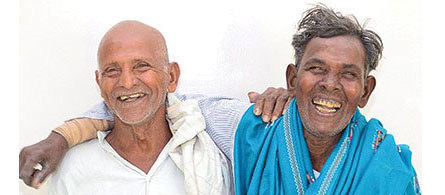 ---
Home-bound care
LVPEI offers essential eye care screening services at home for home-bound patients due to physical morbidities.
While teleconsultation may mitigate the need for a hospital visit to some extent, the absence of an essential physical eye examination can reduce the quality of treatment decisions. In such situations, essential eye care services delivered at the doorstep help the elderly access LVPEI's high-quality vision screening services. Their families also benefit from reduced costs associated with travel to the hospital for consultation. In addition, individuals or couples living alone might find the care at their doorstep more fulfilling than waiting long hours in a hospital setting.
Home-bound services are currently limited to the Mithu Tulsi Chanrai campus at Bhubaneshwar, Orissa and Kallam Anji Reddy Campus in Hyderabad, Telangana. The Centre will extend these services all across the LVPEI network. LVPEI's vision centres (primary centres of vision care) offer home-bound screening services in various parts of Andhra Pradesh and Telangana as part of the 'Silver Sight' initiative
The Hyderabad Ocular Morbidity in Elderly Study (HOMES)
L V Prasad Eye Institute undertook the Hyderabad Ocular Morbidity in Elderly Study (HOMES), with 1513 elderly participants enumerated from 41 homes for the aged in Hyderabad, Telangana, India. The study was designed with the following objectives:
to measure prevalence of vision impairment among elderly residents of care institutions,
to assess the impact of intervention on vision function, and
to assess the prevalence of depression along with its association with 'dual sensory impairment' (DSI).


HOMES found that vision impairment among the study population was 52.7% (with presenting visual acuity worse than 6/12). As with every other setting where eye care is measured, over 88% of vision loss amongst people living in care homes was avoidable. The primary interventions needed were either cataract surgery, glasses or laser treatment for posterior capsule opacification. Furthermore, over 3% were blind. Read more






Contact us
For questions on Elderly Care at the Mithu Tulsi Chanrai campus in Bhubaneswar, please call: 9692928360
For the Banjara hills Campus in Hyderabad, please call: 8977527257 or email us at kar-eec@lvpei.org
For all inquiries, including for partnerships and research questions, please write to
Ms. Smita Panda, coordinator, Centre for Elderly Care, at elderlyeyecare@lvpei.org

Donors
LVPEI acknowledges the support of the following donors towards the Centre for Elderly Care.