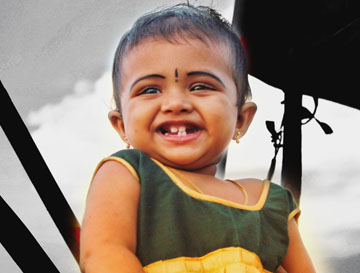 Anvitha is receiving chemotherapy treatment for Retinoblastoma, a life-threatening eye cancer, at L V Prasad Eye Institute in Hyderabad since the past one and a half years.
The family hails from Alappuzha in Kerala. The one year and 9 months old toddler was due for her cycle of Intra-arterial chemotherapy and her parents Vineeth Vijayan, an electrician and her mother Gopika, amidst the current lockdown were worried about how they would travel to Hyderabad from Kerala. For retinoblastoma patients, it is very critical to undergo all their chemo cycles as advised by the doctor without any delays.
Vineeth took to social media to talk about their plight and request for help. He was overwhelmed with the response and support he received from the general public there. 'Help poured in from every corner. What was truly moving was, when my wife received a call from our State Health Minister Ms KK Shailaja just within a day of my post on Facebook. She inquired about our baby's health and made arrangements for our travel to Hyderabad, including necessary permissions from all the four states we had to pass through, an ambulance and two drivers,' says Vineeth.
After learning about her case from the local media, Kerala Chief Minister Sri Pinarayi Vijayan had entrusted KK Shailaja, Minister for Health and Social Welfare, with the task of moving the infant to Hyderabad and back by the same ambulance.
With all the help and support, Anvitha's family managed to reach LVPEI in Hyderabad on 7 April 2020 and underwent the needed treatment. 'It is highly commendable how various individuals, organizations and several state governments came together to help Anvitha and her family. What is equally commendable is the commitment of her parents towards their daughter's treatment. They did not let the lockdown delay her treatment. Patients undergoing cancer treatments need close monitoring of their health and it is very critical for them to attend all their follow-ups. Anvitha is doing better than before, and with regular medical care, there are good chances that both her eyes and sight will be saved,' says Dr Swathi Kaliki, Head of Eye Cancer Services, L V Prasad Eye Institute.
'We were under extreme agony that if we miss this visit, then the entire treatment taken so far would go in vain and our daughter's survival will be at threat. We are so relieved to know that our daughter is doing better now, and thank each and every person who ensured that we could receive the needed care in time,' says a grateful Vineeth.
Baby Anvitha is availing treatment for Retinoblastoma eye cancer at L V Prasad Eye Institute Hyderabad, free of cost to her family.
Share this Post: