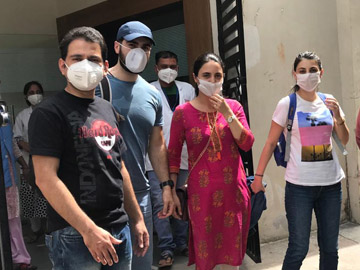 Khuraman Ramzanova, an international cornea fellow at LVPEI, her husband and sister-in-law - all Azerbaijani nationals - had to reach Delhi to catch a flight to Georgia on 27th May. In the absence of flights from Hyderabad during lockdown, a rented vehicle along with all the mandated permissions was arranged for them by LVPEI, and they left by road on 22nd May. They drove an arduous distance of 1600 km along Hyderabad - Adilabad - Nagpur - Sagar - Jhansi - Gwalior - Agra - Delhi, certainly a stressful undertaking for anyone in the Indian summer.
But what made it easy and a memorable experience for them was the support they received all along the way from the LVPEI alumni group and their contacts. Khuraman kept posting updates about their location in the alumni group and many were tracking their travel across state borders, offering help, advice, wishes, moving their contacts to get the required permissions, arranging food and accommodation - virtually keeping the travellers company all along until they safely reached Delhi late on the evening of 24th May and eventually reached Azerbaijan on the night of 27th May .
This is an incredible testament to the strength of the alumni group and the beautiful thread that ties the LVPEI alumni network together!
Share this Post: