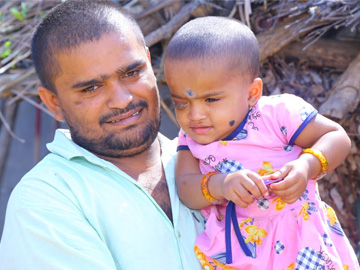 Prameela is a vision technician. She runs the LVPEI primary eye care centre (a vision centre) in the tiny hamlet of Karempudi, on the banks of the Naguleru stream in Guntur district. At the centre that November morning, Prameela flashed a torch onto three-year-old Harshini's eyes. And there it was: Prameela spotted the leukocoria in the child's eye, a tell-tale sign of a deadly eye cancer in children, Retinoblastoma.
Prameela quickly tele-consulted with an ophthalmologist who confirmed her diagnosis. It was time for Harshini to have a detailed examination at LVPEI's tertiary centre, the Kode Venkatadri Chowdary campus, in Vijayawada. There, she was diagnosed with an advanced retinoblastoma in the right eye. Her other eye was normal with excellent vision.
Retinoblastoma is a rare eye cancer affecting children under 5. If detected early, the tumor can be tackled, saving the eye and sight. If detected late, the child's eye may have to be enucleated—removed in order to save life. If left untreated, retinoblastoma spreads to the brain and can be fatal.
The advanced tumor meant Harshini's right eye had to be removed. Harshini's father Manthru was devastated. He was an auto-driver and had already lost a child before Harshini. And yet, to permit a surgery that would make his baby blind in one eye was too much for him. LVPEI's team spoke to him and explained the urgency—there was a risk to her life. But it was too big a decision for Manthru to make. He took Harshini away - and switched his phone off.
The LVPEI team reached out to Manthru's community in rural Guntur. They spoke to the village head, to Manthru's cousin, his wife. They showed them pictures, posters and left behind reading material on retinoblastoma. Finally, the head of our OEU Institute for Eye Cancer at LVPEI, Dr Swathi Kaliki, reached out to them. She spoke to Manthru and assured him all support. The surgery and care would be free of cost. Harshini would get every help she would need to live a full life. LVPEI had a network of permanent centres of care, right from his doorstep to distant Hyderabad. The network was a part of his community. After much persuasion, Manthru agreed to visit the LVPEI Centre of Excellence at the Kallam Anji Reddy Campus in Hyderabad.
Finally, Harshini arrived at LVPEI, Hyderabad in late January. Manthru agreed for Harshini's eye removal surgery. This was an incredibly brave and difficult choice for him to make. But it saved Harshini's life. Harshini's right eye was removed, and she went back home soon after. In a few weeks, a prosthetic eye will fill in her empty eye socket—and the world won't know the difference. A caring community had rallied around her to save her life. As they say, it takes a community to raise a child.
Share this Post: