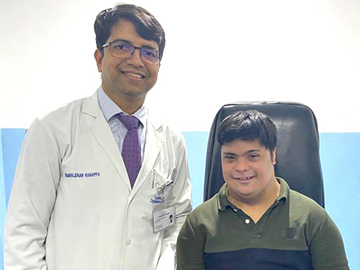 24-year-old Mohammad Abdul Rashid loves to narrate stories from his daily life. This affectionate young lad with Down Syndrome can enchant you with his childlike innocence and pleasing personality.
A few months back, Mohammad suddenly confined himself to his room and would barely step out of his bed. He started fearing darkness and would insist on switching on all the lights at home throughout the day. His mother felt worried that someone was bullying him. She consulted her brother, with whom Mohammad shares a special bond - he noticed that, on his own, Mohammad was unable to take even one step forward. Suspecting a vision problem, he advised her to go for an eye check-up.
Mohammad's mother brought him to LVPEI's Hyderabad campus, where they consulted Dr Muralidhar Ramappa. He was diagnosed with total cataract in both eyes and needed immediate surgical intervention. First, the right eye surgery was planned. But, on the day of the surgery, Mohammad panicked and became restless. Dr Ramappa patiently counselled him; finally, Mohammad consented and cooperated to the proposed surgery, and eventually, both his eyes were successfully operated on. The treatment was provided at a subsidized rate.
'Dr Ramappa took care of Mohammad with great compassion, and I will forever be indebted to him. I am a single parent and was very concerned about his future. Today, he is back to his usual self and can manage his daily chores,' said the delighted mother.
It was a scene to behold when Mohammad dropped to his knees and gifted Dr Ramappa a rose to express his gratitude. With a big smile, he said, 'I am not scared anymore, and I can help mummy lay the table during mealtime and even make tea for my mama (maternal uncle).'
As a caring Institute with relevance and impact, LVPEI's constant endeavour is to provide the best possible care to every patient with utmost compassion and respect.
Share this Post: