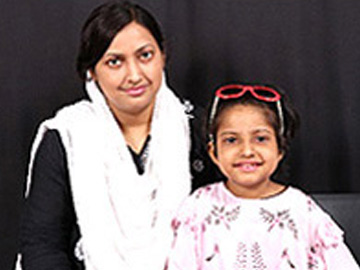 Nine-year-old Ariqua Fatima and her mother have demonstrated the true spirit of endurance, resilience, trust, and the indomitable will to succeed despite all odds. Enduring the pain of frequent dialysis and battling multiple organ and polycystic kidney disorders, unhealthy liver, calcium deficiency, and difficulty in walking, has not been easy for Ariqua, but she has done all that with a smile.
A few months back, when Ariqua suddenly complained of vision loss, the parents consulted ophthalmologists in their hometown in Rajgangpur, Odisha. She was diagnosed with cataract in both her eyes, a side effect of frequent dialysis. Giving her General Anesthesia was not safe and the doctors were not even confident about operating on her. The worried parents brought her to LVPEI's secondary centre in Rajgangpur and were immediately referred to Dr Debasmita Majhi at LVPEI's Mithu Tulsi Chanrai Campus in Bhubaneswar. The only relatively safe option was of giving her anesthesia but an equally painful option was through the peribulbar block. Thanks to the mother's faith in the doctors and in her daughter who she knew would tolerate the pain, the surgery was planned without further delay. It was a collective success made possible because of Dr Mahasweta Mishra's (the Anesthesiologist) and Dr Majhi's precision and surgical acumen, the support of the OR technicians and nurses, and the mother and daughter's grit and determination.
Ariqua has resumed her studies and does what she loves doing the best, playing with her 2-year-old brother. "On the postoperative day of the first surgery after the patch was removed, looking at her father Ariqua started shouting with joy. She immediately asked us to operate her other eye as well. The two days of the surgery were difficult, but an equally gratifying and learning experience for all of us," shares Dr Majhi.
Share this Post: