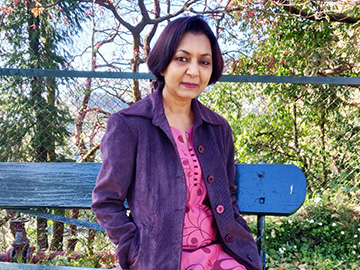 'The eyes are your window to the world but to the world they are the window to your soul" – often quoted by my late mother, Mrs. Ashish Daniel.

It was early 1990s. I was a young, busy working woman in Delhi. Suddenly, one fine day, I experienced a bit of redness in my eyes but did not think much of it. However, soon after I woke up one morning to the shock of total blindness in one eye. In my panic, I reached out to my husband who was half-way to his office but returned to rush me to the nearest eye clinic. The ophthalmologist managed to reverse the eye condition with heavy oral steroids & injections to the eye. The doctor told us that we had come in the nick of time, else the eye would have been history. This was my first introduction to uveitis and the fact that if ignored, the consequences could be literally blinding. It was a deadly eye-opener!

By now we had moved from Delhi to Noida and a friend referred us to the Eye Care hospital there. Under their care, I was able to manage reasonably well. Then, in the year 2008, I moved to Mussoorie, Uttarakhand. There was no eye hospital in town and travelling to Delhi frequently was not possible. My eyes started deteriorating gradually. I would get my check-ups once in two months and was often prescribed steroidal eye drops to control the inflammation. Each time the usage was for at least 3 weeks. Then I would be fine for a few days and then the pain cycle would start again. Frequent use of steroids elevated my eye pressure and created secondary glaucoma in my left eye. So now, both uveitis and glaucoma had to be managed.
Year 2020. The world is gripped with the Covid 19 pandemic. With total lock down in the country, travel / physical check-ups were no longer an option. With only tele consultation, my eye pressure went through the roof. As a consequence, I now have irreversible damage in my left eye's peripheral vision. Fortunately the frontal vision was spared, enabling me to still function normally. A huge stroke of good luck, wouldn't you say?
January 2021. Domestic travel opens up. I came for my vacation to Hyderabad and my husband suggested we get an appointment at the world renowned LV Prasad Eye Institute. What motivated us to approach the hospital was my father-in-law's successful eye surgery earlier. As luck would have it, we were given an appointment with Dr Soumyava Basu, a young, soft spoken and patient uveitis specialist.
After hearing my long 'association' with uveitis, he started looking at the larger picture. During the consultation, he diagnosed that the underlying condition was HLA-B27. This led to a more holistic & comprehensive treatment that I had ever received till such time. I was given oral medicines to quieten the overactive immune system & eye drops to calm the eye. It has now been more than 6 months, without a single episode of a flare up. My eye pressures have also been stable throughout. To quote Dr. Basu, "this is as good as it gets'.
Behind the gentle demeanour is a man who actually knows how to treat chronic patients of uveitis. Finally, I had found the perfect person with in-depth knowledge & experience to treat my long term ailment. I was put on a course of treatment that addressed both my bad eye & the system within
For the first time I have been off steroids for six months. My eyes feel so much better & lighter. I am forever grateful to the amazing team of doctors at LV Prasad Eye Institute.
In conclusion, I just want to say eyes are one of the most complex organs of the human body. Each problem needs a specialist to treat it. The onus of finding the right doctor is on the patient. Once a correct diagnosis is made the problem can be managed even from a long distance. I was late but lucky. You be wise & safe!
Thank you Dr. Basu for being such a huge blessing, accessible at all times.
Ronita Daniel
Share this Post: