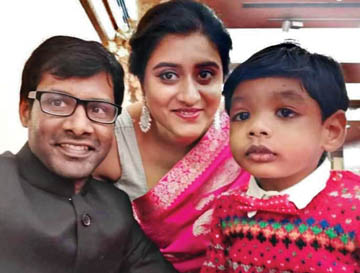 I write this email with the intention to share a very happy story with you. My son Avyukt was born with ptosis on both eyes. When he turned one in Sept 2017, we decided to get it operated and chose LVPEI despite staying in Gurgaon with 4 top-notch hospitals right next to our locality. On 4th Jan 2017, a little more than three months after his one year birthday, Avyukt was operated upon by Dr Tarjani Vivek Dave and her team. She and her team took good care of the tiny patient and the scared parents too. She was very transparent and patient right from day one till today. We are very happy with the results of our little one's eyes and it was the one year anniversary of his eye surgery on 4th Jan, 2019. Hence sharing a recent happy family picture with you so that you can be a part of our happiness too.
LVPEI is doing great service towards mankind. We loved how you are so transparent about your fee structure, how you make things affordable for others and how helpful your people at the OPD are towards the underprivileged and illiterate.
It was a great learning for us that contribution to society can be simple yet meaningful.
Sanghamitra Chakravarty
Share this Post: