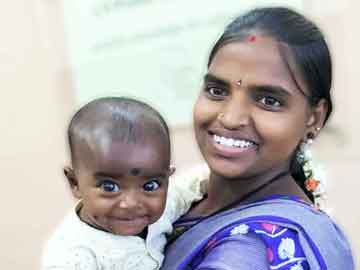 It is heart-warming to share the story of Varun, a 7-month-old born with Glaucoma, whose vision was saved by early and accurate diagnosis at the primary and secondary levels, quick referrals, and timely treatment through the LVPEI pyramid model of eye care delivery.
When Varun was 3 months old, his mother noticed that his left eye had suddenly turned blue. Terrified, his parents brought him to LVPEI's Vision Centre (Primary Eye Care Centre) in their village in Nagarkurnool in Telangana. Suspecting it to be Glaucoma (where due to an increase in eye pressure the colour of the eye changes to blue), the Vision Technician immediately connected with the ophthalmologist at the nearest rural secondary eye care centre, seeking advice by teleconsultation. A detailed eye examination was scheduled for Varun at the secondary centre on the same day. He was diagnosed with Megalocornea (a rare corneal disorder) in both eyes and Glaucoma in the left eye. Through the priority referral system, he was referred to the Centre of Excellence in Hyderabad, where specialists in Childhood Glaucoma successfully performed Glaucoma surgery. He will continue to need follow-up care, and it will be provided through teleconsultation and physical visits (when required) to LVPEI's secondary centre, saving the family time and money on frequent travel.
Any delay in treatment could have resulted in lifelong vision loss for Varun. With his vision restored, it is heartening to see him exploring and learning new things every day.
Share this Post: