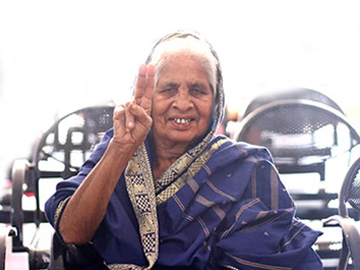 This lovely picture of 72 year old Mrs Premalata Mohapatra is simply heart-warming. Her million-dollar smile and the confidence on her face are priceless! Ms Mohapatra visited our Bhubaneswar campus with a complaint of diminishing vision. It had affected her quality of life, making her dependent on her family. She was operated on for cataract in both her eyes, restoring her lost vision and reinstating her confidence.
Elderly eye care is one of the core focus areas of LVPEI. The institute has exclusive centres offering personalized eye care to the elderly group. The care includes detailed eye examination, diagnostics, surgical intervention, vision rehabilitation, physiotherapy, screening for systemic health conditions, depression and dementia, and lifestyle counselling on nutrition, exercise, and preventive measures to reduce the risk of falls.
To strengthen the eye care services for elderly patients across the LVPEI network, recently a Geriatric Workshop was held at the Institute's GMR Varalakshmi Campus in Visakhapatnam, where the team brainstormed and strategized a plan of action.
Share this Post: