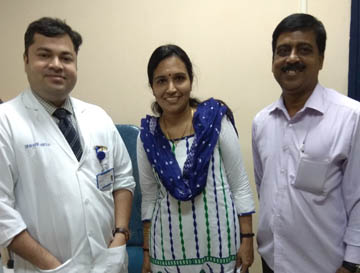 'My vision gradually started deteriorating and I was advised to visit LVPEI Visakhapatnam. Thanks to Dr Bhavik Panchal, who is no less than God for me, I have today regained both my vision and confidence. I have visited many hospitals, but find LVPEI as the best for its quality treatment, patient care and good hygiene. I salute everybody who works so hard to make this place so wonderful. This indeed is a temple where healing is provided to all the patients.'
Mrs Anayedath Kalpana.
Ms Kalpana, a diabetic patient, had developed vitreous haemorrhage (bleeding in the eye). In addition to Anti-VEGF injections, she also underwent vitreoretinal surgery. From an ability to see sheer hand movements, her visual acuity today has improved to 20/20.