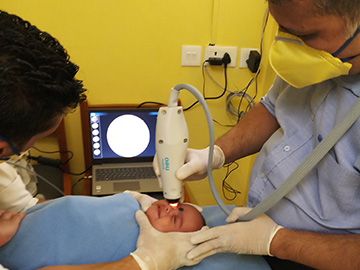 Among the various eye disorders in newborns and young children, Retinopathy of Prematurity (ROP) and Amblyopia are major ones. Early detection and treatment can prevent permanent vision loss. The Newborn Eye Health Alliance (NEHA), inaugurated at LVPEI Bhubaneswar in March 2017 by Mrs Abha Dalmia and Mr M H Dalmia - Former President, OCL, is playing a critical role in this.
LVPEI is the only pioneering centre in Odisha offering comprehensive pediatric retinal imaging, neonatal intensive care and the complete range of ROP services. Till date, 9,236 newborn babies have been screened for ROP, 338 babies (606 eyes) have received laser treatment, 206 babies (397 eyes) injected (anti-VEGF), 70 babies (104 eyes) operated upon, as also ROP screening being done in 11 out of 30 districts in the state, and the team churning out 9 publications on ROP management.
In collaboration with Rashtriya Bal Swasthya Karyakram (RBSK), LVPEI has scaled up the ROP services to 8 districts of Odisha, with 3 districts now screening and treating ROP independently. The unit is also providing mentoring support to eye care professionals in India, Nigeria and Bangladesh. LVPEI has also received significant support from the Cognizant Foundation and The Queen Elizabeth Diamond Jubilee Trust.
Share this Post: