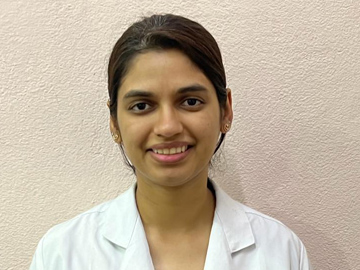 In the second year of the LVPEI Ophthalmology Fellowship, the Fellows-in-training are posted at the Secondary Centres for a year. The aim is to equip them to manage an eye care facility and provide them with the hands-on experience to become better surgeons.
Paediatric Ophthalmology & Strabismus Fellow, Dr Adeline Shona Lasrado, was posted at secondary centres in Thoodukurthy, Kothur and Paloncha, in Telangana. She describes her experience as a 'one-of-its-kind learning experience' and a true accomplishment. She says, 'Initially I was very sceptical about how I will manage a year of my posting at the secondary centres, away from home, in a completely new environment and culture. But, having completed it, it now feels nothing less than an accomplishment. The experience was like a roller coaster ride packed with ups and downs, excitement and fear, mistakes, and learnings. The variety of cases I got to see, guidance from our mentor faculty, the visiting speciality faculty and the staff at the centre, together these have greatly helped me to become a more confident ophthalmologist. I can now manage a basic-comprehensive outpatient clinic and operation theatre. Among my forever-cherished memories will be the beautiful and thankful smiles of the patients who benefited from our services!'
Adeline is now in the final year of her speciality fellowship at the Hyderabad campus.
Share this Post: