The Ramayamma International Eye Bank
Established in 1989, at LVPEI is the largest provider of sight restoring corneas in India
Corneal Transplants Performed
The LVPEI network and outside the LVPEI network
The Ramayamma International Eye Bank (RIEB) is the largest provider of sight restoring corneas in India and a SightLife Center of Excellence in Eye Banking. Since its establishment in 1989, RIEB has greatly increased the collection of transplantable donor corneas and elevated eye banking performance standards in India and other parts of the developing world. As a leader in eye banking across south east Asia, RIEB has contributed significantly to the effective networking and proliferation of eye banks through promotion of community eye banking programs.
To complement RIEB's efforts are the community eye banks connected to LVPEI: Mohsin Eye Bank, Visakhapatnam and Drushti daan Eye Bank, Bhubaneswar
From our modest beginnings with seminal support from the Ramayamma family and as an International Federation of Eye Banks affiliate we have grown over the years into an independently functioning eye bank and resource centre. We have provided the gift of sight to thousands of people and continue to make strides in our ability to provide corneas to needy recipients each year.
Along the way, we have received support for different areas of our work from Rotary International, Sightsavers International of UK, Christoffel Blindenmission of Germany, ORBIS International and Eyesight International.
RIEB's staff makes use of state-of-the-art equipment and infrastructure and continuous improvement through training to execute all aspects of community eye banking including:
Recovery, evaluation and preservation of donor tissues
In order to accomplish the goal of bridging the gap between the demand and the supply of quality donor tissues, the Ramayamma International Eye Bank initiated the
Hospital Cornea Retrieval Program (HCRP)
in 1990.
The Hospital Cornea Retrieval Program (HCRP)
Two means of overcoming the acute global shortage in quality corneas are encouraging voluntary donation and exploring newer sources for cornea procurement. Voluntary Eye donation is a result of realization of one's social responsibility towards the corneal blind. However, in moments of grief, this realization may not materialize into actual eye donation, because the next-of-kin may not be in a position to make such emotional decisions. Eye Donation Counselors (EDCs) directly motivate the family members of the deceased for an eye donation.
The Ramayamma International Eye Bank initiated the Hospital Cornea Retrieval Programme (HCRP) in 1990 to concentrate on deaths that occur at hospitals and encourage eye donations using a combined method of motivation and grief counseling. The HCRP focuses on hospitals to retrieve corneal tissue because of several inherent advantages with the setting. Availability of medical history, availability of tissues from younger individuals, reduction in time interval between death and corneal excision and cost effectiveness are some of these.
The programme involves trained counselors who are stationed in Multi-Speciality hospitals. They counsel and motivate a family to pledge the eyes of their deceased relation, and contribute to the worldwide effort to reduce corneal blindness. The eye bank also accepts pledges from individuals who wish to donate their eyes in the future.
The L V Prasad Hospital Cornea Retrieval Programme recorded a high yield of donor tissues recovered through the HCRP. Of the tissues recovered from 11,665 donors by RIEB between 1991 and 2012, 66% was achieved through the motivational approach of EDCs.
Despite increased public awareness about eye donation over the years, so acute is the shortage of donor corneas that there is a six-month waiting period for transplant patients at hospitals across the country. How can you contribute your eyes? Pledge your eyes to RIEB, and give the gift of sight.
Pledged corneas cannot be retrieved without the consent of the family. The families of those who have not pledged their eyes can also decide, at the time of death, to pledge the eyes of the deceased on his or her behalf. However, at the time of death, in the midst of grief and confusion even the best of intentions may not lead to an actual eye donation.
Do you have any questions/doubts on voluntary donation? FAQ will help you clear some of them.
RIEB procures corneas from a variety of sources, with a focus on active procurement from hospitals. The Hyderabad team alone has collected 1352 corneas in 2003. Of which, 918 corneas have been utilized for surgeries and 53 have been distributed to other hospitals in the Hyderabad and Secunderabad. The RIEB still has a waiting list of close to 400 patients who are in need of a healthy corneal tissue.
Procured corneas are evaluated based on various parameters and are suitably graded. 'Excellent' to 'good' grade cornea are used for corneal transplants while lower grades are used for therapeutic transplants which are performed to stem the spread of infection on the surface of the eye. The corneas are also screened for the HIV antibody, HBS antigen and VRDL (Syphilis).
The corneas are preserved in MK medium and are distributed among LVPEI and hospitals in Hyderabad and Secunderabad, to meet their surgical, therapeutic and research needs.
Distribution Of Tissues For Corneal Transplantation
The donor corneas locally procured by the RIEB are not only utilized by surgeons within the L V Prasad Eye Institute, but are also made available to numerous corneal surgeons across the country. In 2014-2015, 5066 corneas were collected by RIEB, of which 1943 were utilized across the LVPEI network and 245 corneas were distributed to other corneal surgeons across the country. RIEB till date has collected over 52,600 donor corneas, of which 27,200 donor corneas have been transplanted to needy patients.

Mohsin Eye Bank, Visakhapatnam and Drushti daan Eye Bank, Bhubaneswar, community eye banks of LVPEI in 2014-2015, collected 1528 corneas, of which 730 corneas were distributed to corneal surgeons outside the LVPEI network.
Research In Cornea Preservation And Decontamination Techniques
Research Activities
The RIEB has received research grants from the ORBIS International, USA and the Eye Sight International, Canada for carrying out studies in the following areas:
Establishment of an Organ Culture Laboratory for longer storage of donor corneas.
To evaluate its applicability for meeting the demand for quality, quantity and safety of corneas from septicemic and ventilator dependent donors, used for transplantation.
Evaluation of a successful outcome in corneal transplantation.
Role of community in eye banking.
Public Awareness Programs
The RIEB conducts a two-week eye donation awareness program aimed at increasing awareness of eye donation and corneal blindness in August-September every year. During this period, special events are held at the Institute and in several public locations around the city of Hyderabad.

Pledge cards are distributed and collected, with several public personalities signing pledges at highly publicized events. The eye bank also distributes posters for public display, holds seminars and lectures for different groups, and distributes public awareness literature in several Indian languages as well as in English.
The Ramayamma International Eye Bank has harvested 36,635 donor corneas and transplanted 19,247 of them to needy patients.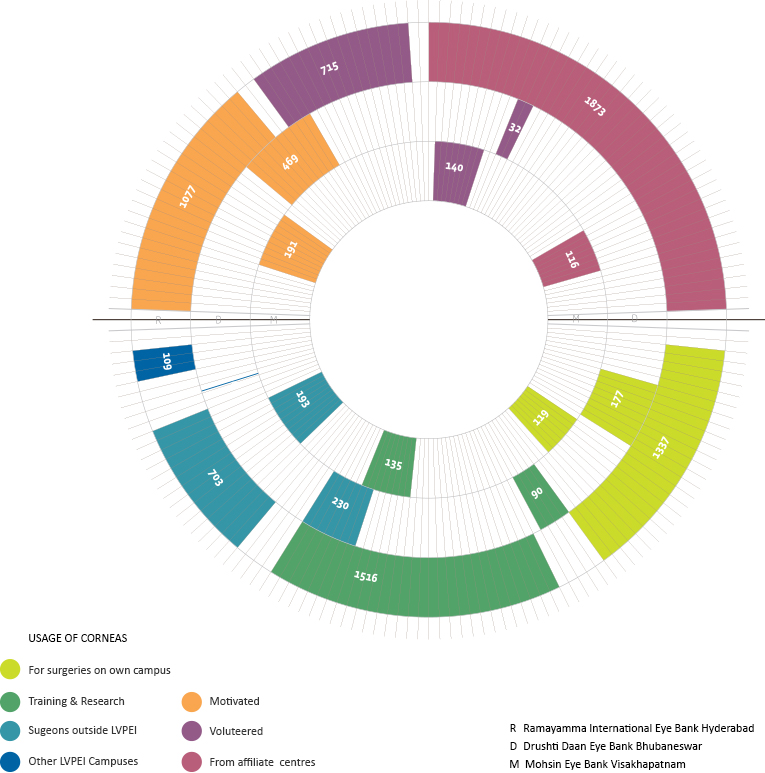 LVPEI's mission is to provide equitable and efficient eye care to all sections of society
Find Your Doctor