Vision Care For All
The LVPEI Pyramid Of Eye Care
A 'bottom-up' pyramid represents LVPEI's model of holistic Eye Care - creation of sustainable permanent facilities within communities, staffed and managed by locally trained human resources, and linked effectively with successively higher levels of care.
At the base of the pyramid are VISION GUARDIANS that represent community involvement. Vision guardians comprise trained young people who keep a close vigil on the eye health of about 5,000 persons within communities, through door-to-door surveys and other informal means.
VISION CENTRES form the next level and serve the primary eye health needs of the community. Drawing upon local talent and staffed by persons from the local community, each Vision Centre caters to a cluster of villages, individually servicing a target of around 50,000 people.
SECONDARY EYE CARE CENTRES are networked to the Vision Centers and each serves a population of 500,000 persons. These centres provide care that can diagnose the complete range of ophthalmological diseases and offer high quality surgical care for cataract - the most common cause of blindness. These centres draw upon local talent too, with team members recruited from the local community and trained at LVPEI's advanced tertiary centres.
TERTIARY CARE HOSPITALS / TRAINING CENTRES are linked to Secondary Centers and each serves a population of 5 million persons. These centres provide a comprehensive range of services and also serve as training centres to the secondary centres.
CENTRES OF EXCELLENCE are linked to tertiary centers and each serves a population of 50 million persons. These centres treat complex diseases, train the trainers in subspecialties & rehabilitation and engage in advocacy.
The LVPEI model draws the most marginalized populations into the health care system, providing affordable or free eye care, without compromising on quality. Vision Centres and Service centres can entirely eliminate 75% of all avoidable blindness due to the need for spectacles, detect potentially blinding problems. Thus only 25% vision impaired people in rural, remote areas need to travel to the cities to access tertiary care.
Impact of the Eye Care Pyramid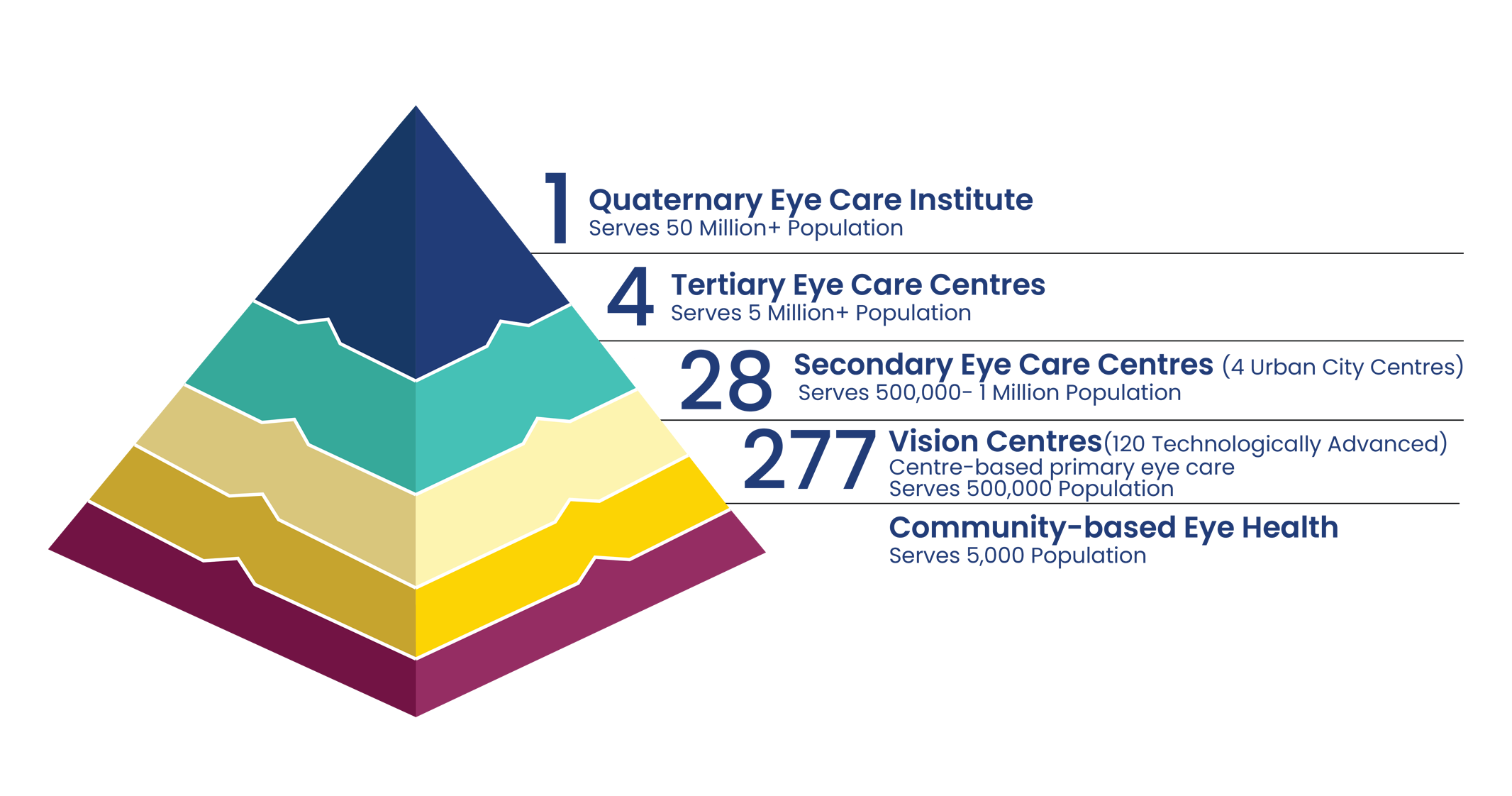 Although currently used in a bottom-up approach, the LVPEI Eye Care Pyramid originally evolved as a 'top down' model, which enabled the Institute to leverage its existing global and Pan-India linkages and facilitate implementation at the grass roots. The Government of India has adopted LVPEI's Pyramid as a model of Eye Care service delivery.
The Vision Centres have helped not only bring services within the reach of villages that have been beyond the pale of most health care services, but have also become important points of community health awareness and education programs that have a potential to change attitudes toward and service uptake of not only Eye care programs, but also other social and health interventions in these areas.
Going beyond Eye Care, these centres have also become important points of community health awareness and education, positively influencing attitudes and driving social & health interventions.
LVPEI currently has 180 Vision Centres that provide primary care in the districts and villages of Andhra Pradesh, Telangana, Odisha and Karnataka. These are linked to Secondary Eye Care Centres, which are in turn linked to LVPEI Tertiary Centers in Visakhapatnam, Vijayawada and Bhubaneswar (Odisha). LVPEI's Centre of Excellence at Hyderabad is at the apex of the Eye Care Pyramid.
The model's innovative aspects:
Combines excellence with equity: quality eye care for all
Sustainability: each centre becomes self-supporting through income-generating activities and cross-subsidization of services
Team approach: complementary roles for each team member for an efficient and cost-effective system.
Community participation: Strong community ownership at the primary and secondary levels, with over 50% staff recruited locally and contributions from the community in cash and kind
Though services are offered free to the needy, this is not a 'charity model', but a 'development model'.
This replicable model is appropriate for developing countries, as it does not depend on external funding or expertise in the long term.
The cost for establishing a Vision Centre, a Secondary Eye Care Centre, a Tertiary Eye Care Centre and a Center of Excellence is about US$ 10,000, US$ 100,000, US$ 1.0 million and US$ 10 million respectively. The effective cost at each of these points of presence, is 20 cents per person. The cost of providing holistic Eye Care from base to apex of the Eye Care Pyramid is about US$ 1 per person served.
A full feasibility report is prepared before initiation, taking into account technical, managerial and financial sustainability and human resource needs and sources, including leadership.